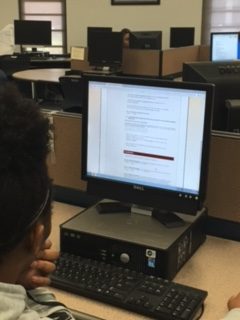 Head Start! College Application Day 2016
Taking a look at RNE'S college application day.
October 24, 2016
Have you ever stopped and wondered: 'How do I sign up for college?' 'Where do I start?' or 'Would I even be able to go?' Allow us to introduce you to RNE's application day. Application day may be seen as a way for seniors to apply to set aside time to apply for colleges and scholarships, but to others, it's far much more.
"I really like this because I have a busy schedule. I have no time to apply for colleges and scholarships," senior Katelynn Wall, said. "I'm glad they took the time out, and I don't really have classes after lunch anyway so this is really good for me and my schedule."
The application is great in more ways than one, though. "My favorite thing is the time we have to complete the applications. It doesn't take a long time and they also have wavers here for fees because college is expensive." Wall said.
However, much like any kind of event, there are flaws. This event is no exception. "For me, I personally thought the event was happening another day. So maybe a clearer message on when it was happening." senior Nicolle Seibles said.
A lot of seniors can agree, because of the busy schedules they have, that application is a huge benefit to them and their goals. Someone else, though, also believes in doing the best for the students and their goals. That person is Dr. Pinkney Epps, RNE's college information specialist.
Dr. Epps revealed about how much time and effort goes into the organization of college app day."The first thing you have to do is schedule with several college admissions offices to send an admissions counselor to assist with the event. It's usually a large event since it involves the entire senior class," Epps said. "For instance, for this years application day on October 18th, I began to plan for it in June. That's why we were able to get 15 admissions counselors to come in this time. It takes a lot of planning ahead of time in order to get all of these folks, who I'm sure have a lot of different schedules, to volunteer their time."
To Dr. Epps, college application day is a day of reckoning. He has many things he enjoys about not only the event, but his job in general. "[My favorite part] is seeing the students excited for college. That's always been an excitement for me. I've been doing this for years. I went into college for 22 years and came to this line of work because I love helping students and seeing them excited about the possibility that they'll have, whether it's a two or four year college," Epps said. "I've always said to students, 'You're destined for greatness."
"I really, truly believe that [every student is destined for greatness.]" Epps said, "The only person who can stop a student from achieving greatness is themself."