Genres and authors to peak your interest
Reading is a fundamental task that can't really be avoided. People read texts from friends, read menus to restaurants and even read questions to homework assignments. However, high school students don't read novels much, because reading for fun isn't something that sounds appealing to the average teenager. This article will give Richland Northeast students a whole new spectrum to look at and possibly find a genre that lights their fire for reading.
Some people need a small nudge to help them start reading, and suggestions are a great help, "My favorite book genres would be Suspense and Mystery," says Pamela Williams, RNE's Library Media Specialist says, "I like solving the puzzles. I don't like to hear students, or well anybody say they don't like to read because I think they just haven't found the right book," Williams says. As an active mystery reader, she gave a few mystery authors that would be good for someone who wants to explore that genre. "Megan Miranda and April Henry both are authors that write young adult mystery and suspense," Williams says.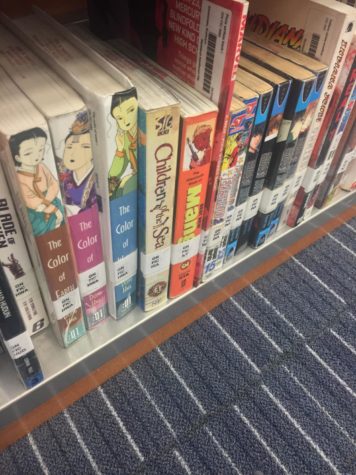 There is a large option of other genres to check out aside from mystery though, "Sci-Fi is good," says Stephanie Sharpe, English teacher says, "It's so close to fantasy just a different kind, you wouldn't deal with magic but robots and Martians instead, Dystopias are also good." Just from these few genres given by both Williams and Sharpe, you can find a large collection of books that would suit the kind of thing that you're looking for, no matter what it is.
Many people choose their ideal books on not only genres but also great authors, "How can I pick just one," says Tamia Campbell Freshman. "Adam Silvera has amazing at writing complex love stories without making some of the specific details the center of attention. Even though it's not always a happy ending, his writing is still memorable and meaningful." Silvera is the author of the titles 'They Both Die at the End', 'History Is All You Left Me', and 'More Happy Than Not.' these books are not well known but they talk about real issues that go on in the LGBTQ+ community. "Marissa Meyer is another author that has brought new life and meaning to some of my favorite fairy tales without making it too obvious that they're following the classics," Campbell says. Meyer is a popular young adult author, she is the creator of the Lunar Chronicles and the current Renegades series.
Reading can be treated like a chore when it's being assigned to you, no doubt, but finding the right book that you can click with all depends on you,
"

It's not a push it's a pull, I'm drawn to it, it's peaceful, I get to escape, it's just like something that has to be done." Sharpe says.
Students all have different reasons as to why they choose and continue to read, "I don't know, I just really enjoy it." Campbell says, "My love of reading really spiked in middle school. I knew the sixth, seventh, and eighth grade Language Arts teachers, and the four of them really pushed me to expand my reading horizon." Campbell's favorite genre is Fantasy, a genre that has a lot to offer to readers, from things like supernatural abilities to stories about myths getting told in the modern day. 
With these options of genres to check out in the library and much more that are out there, finding your next favorite book will be a cinch.