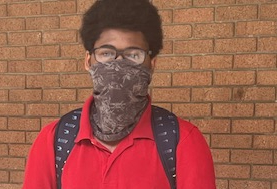 Jaylon Dowdell
What about Spring Fling are you most excited about?
"I guess hanging out with all my friends and meeting new people and especially having more time and, you know, getting more outside time. And this is definitely a good thing for all the students, being out here. It proves we're a stronger Cavalier family." 
How do you think this year's Spring Fling is going to be compared to last year's? 
"Last year is nothing compared with what's about to happen tomorrow. Cause they brought more food trucks, gaming trucks, and everything. It doesn't matter what happened, I just know I'm about to have fun. I don't care what happens, I want everyone having fun and everyone being safe. That's the main rule of this school."