Old Lights Fade as New Ones Light Up
November 18, 2016
Helmets clash and pads collide as the Cavaliers take on the Bruins. The Bruins get out to an early lead 14-0. Northeast running back Tyquandre Davis extended his arms to put the orange and blue on the board for 6.  Davis would score again in the third quarter on a one yard run. In the fourth quarter the Cavaliers were down 28-13, until wide receiver Jaquain Hills scored a 33 yard touchdown with two minutes and fifty seconds remaining in the game. The Cavaliers would score on the next possession as Quarterback Charles Simons threw a nine yard pass to Tyquandre Hill. The Cavs would fail to convert on the two point conversion. The clock comes to an end and the scoreboard reads Bruins-28 and Cavaliers-26.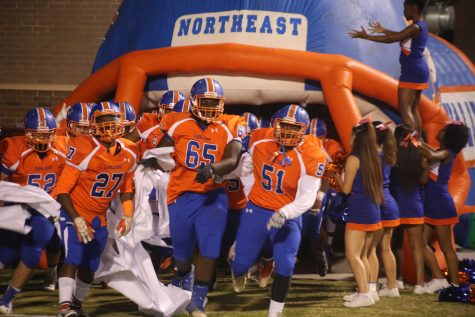 (Robert Counts- RNE Convergence Media)
"The guys played their tails off, they left everything on the field, which is all we can ask for. Before the game we told them no regrets especially seniors, could be their last game and if it was, we don't want them having any regrets 20 to 30 years down the road and i can promise you that none of them do, they left everything out there."
Defensive Coordinator – Bennett Weigle
Helmets fall in defeat and tears roll down their cheeks and as for some seniors this is the last time they will take the field under the Friday night lights.
"It felt like a part of me was being ripped away, and a hole was left in me that could never be filled for as long as I live. I will never forget the sweat poured and the tears shed that night."
Senior- Javian Brown.
For Seniors they are putting up their helmets and pads for the last time, they will no longer wear the orange and blue.
"After the game finished, I realized I'll never put on the Cavalier jersey or the number 12 ever again.  I'll never play at Harry Parone Stadium again. High school football is done and it is nothing more than memories."
Senior- Michael Joyner
For others this is the end of the Friday night lights and the move to saturday night primetime.
"Knowing that I will play college football makes the experience less painful. I'm just ready to get to college and have a fresh start at the next level."  
Senior- Michael Joyner
"I'm looking for better opportunities and to get better, I know that that's all I can do is get better and gain more experience and get me ready for the goals god had set for me. I'm just looking to ball out in college and make my name known."
Senior- Cedric Smith
Even if they are not going to college this is the end of 32 seniors football careers at Northeast.