The Magnet Fair
On January 18th from 6:30 to 7:30, middle school students were invited into the Richland Northeast auditorium to learn more about the different magnet programs the school offers. The students were allowed to roam through the classrooms of the magnet programs, exploring where they could end up working for the next four years of high school. These programs include the Horizon program, Palmetto Center of the Arts, and Convergence Media.
The Horizon program is designed for students who are more academically gifted students. With this program, students are put through rigorous classes for the 4 years of their high school exp
erience. They stay in the International Baccalaureate Middle Years Programme for their freshmen and sophomore years before transferring into the International Baccalaureate Diploma Programme to finish their junior and senior years. During their 10th grade year, Horizon students are guided through the process of making their personal project, a project that is truly original to themselves.
Palmetto Center of the Arts tackles another part of the student body. This program is for those who are gifted in the arts, who can handle 4 years of rigorous training in dance, theatre, visual arts, vocal, strings, or wind percussion. "PCA really helps to develop anyone, whether it be theater, voice, band, or whatever by helping the students move further along their path to become the best they can at their art," junior Peter Purkall says. The program is nationally recognized, having received the John F. Kennedy Center Creative Ticket award in outstanding achievement in arts education. In addiction to PCA, the students are also enrolled in the International Baccalaureate Programme and may pursue an IB Diploma. Admission for PCA is open to rising freshmen who have at least a 'C' average.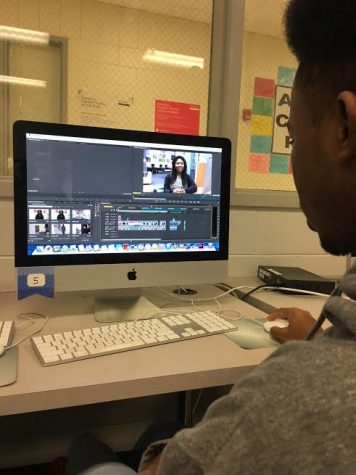 Convergence Media is composed of 5 major components: the Archive yearbook, the Cavalier newspaper, the Psyche literary magazine, broadcast RNE-TV Live and the Saber, the student run website and social media program. Students will use their first year to simply learn the basics, helping them to later pick what component of Convergence Media they'll go into. Senior broadcast student Ty'Charn Harvey says, "Convergence media is a great program because it helps me enhance my technology skills and prepare me for what I want to do as a career later in life." For the second through fourth years of the program, students will expand their horizons to work outside of the classroom to gather news stories. All components of Convergence Media are taught by experienced, award-winning instructors that come from the field of media.
When choosing the programs they want to go into, students should consider what they want to do in their future career. Each program caters to a different student, and the diversity in each program is wide.