Don't lose your head – Legend of Sleepy Hollow
When someone thinks of the tale of the headless horseman there is one place their mind could take them. They could think of Halloween scares at haunted houses or a book that uses the tale for suspense. No matter where the mind goes when hearing of the legend, there's one play that is known for the use of the headless horseman. The classic tale of "The Legend of Sleepy Hollow."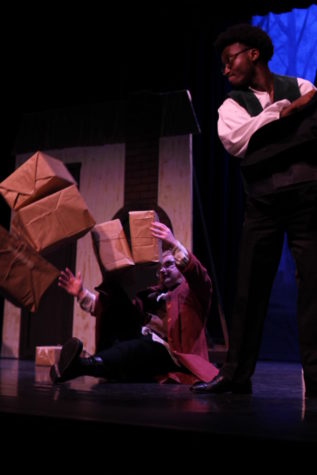 "I always enjoyed the story of Ichabod and the Headless Horseman," said Madia Medico, theatre teacher. "I like that this play is based on a short story written by Washington Irving…I picked this edition because it was a comedy," said Medico. The process of producing the play felt different for each actor and crew member. The Legend of Sleepy Hollow has a lot of members working behind the scenes. Aya Rose, stage manager, explains how her process of helping with the production goes. "Tech and Lighting, Prop and Costume, and Actor/Audience Engagement. As the stage manager, I have to balance all three before and during the show," said Rose
As stage manager, Rose's work is essentially the co-director with how much involvement she has with blocking, or where the actors move, and how well the actors work with each other. Although the process of getting ready for the play is complicated, the actors found it very refreshing to be working with each other in such a short period of time. "I really enjoyed being surrounded by people who love and have a similar passion for theater as I do. Being surrounded by people who love the same thing made putting on the production more efficient and exciting," said Marrissa Derrick, actress.
The play took place from October 12 to October 14, and each night the crowd seemed to enjoy the performance.
"I enjoy spending time with the cast and crew, and also putting on a show for the audience." Cathrine Kelley, backstage crew says.
"Iconic," "Classic," "Unexpecting," "Interesting," These are all the words the backstage crew and actors used to describe the Legend of Sleepy Hollow.