Donuts not brains- Zombie Coffee & Donuts
You may know of Krispy Kreme, Dunkin Donuts or even Duck Donuts, but a new cafe has opened up in the downtown Columbia area called Zombie Coffee and Donuts, A cafe that was founded in Georgia but is relatively new to Columbia.
"Zombie is actually hands-on," Malaysia Tyler, shift manager said, "It's a laid-back environment where anyone to come, and it feels different," Tyler said when describing what Zombie cafe is to her. The cafe although small is buzzing with potential, the smell of the donuts and the fresh brewing coffee is so evident when walking inside. "We make our donut batter handmade at the beginning of the day, then we dip them in the fryer right after you order them." Sara Slaughter, a worker said.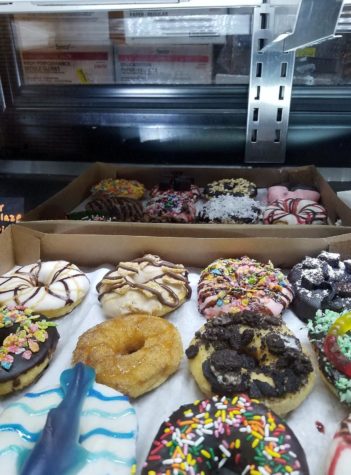 Zombie Coffee was opened up in Athens Georgia in 2016 by the owner Tony Raffa. The cafe now plans on expanding their platform from their location in Athens to South Carolina. "We use a lot of social media interaction, and we're still trying to figure out ways to get more people to know we're here," Tyler said. The Zombie cafe, spends their time giving back to the community the best way they can, with the Zombies Giving Back program.
"We have three charities every month. We use tokens to decide which charity and whichever has the most tokens we use a percentage of our profit to go to that charity." Tyler said.
The Zombies Giving Back program has been able to donate more than $40,000 dollars in Athens, after their first year of working the program, and South Carolina cafe workers hope to be able to raise and donate as much for charities. The faith in the cafe that the workers have, is very clear as soon as you walk in, "I love working here because my boss the person who owns the business are laid back," Tyler said.
As time goes on with them working at the cafe, Tyler also hopes for the cafe to become more technologically advanced. "We may have more technology, probably in the future people can order by themselves and we'll have our own ordering service," Tyler said, regarding the future of the cafe.