Spirit Week Ending and First Home Game Activities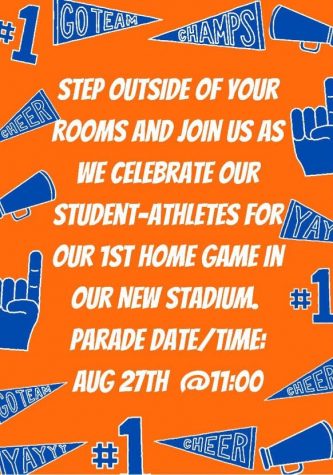 Tomorrow, August 27, will mark the first school spirit event since winter of 2020. There will be a parade where the student government, the band, and the football team will march around the school. They will go through A, B, C, and S Hall. The event will take place at 11:00 A.M. during the second block. Students are encouraged to stand outside of their classrooms to show support of our school talents. Although it will be a stark difference from the normal pep rallies we were used to, students are still excited to witness and cheer them on.
"This will be the first, and it will be amazing," junior Sydne Crawford said.
The rest of the day will also be filled with other exciting proceedings.
Following the spirit parade, the Richland Northeast Hall of Fame will be expanded.
Several alumni of the school will be inducted as a reward for their hard work in athletics. The ceremony will be conducted at 1:00 P.M. in the upstairs gym lobby.
History will be made tomorrow at 7:30 P.M. as our high school will host the first stadium home game in its existence. The game will be attended by students, parents, and alumni, so it is expected that the stadium will be packed.
"It's really important that I attend this game because Richland Northeast was my Alma Mater," alumni Gregg Helman said.
Moreover, many students will be coming to the game. The significance of this game may not hit them now, but in the future they will realize the importance of this event.
"As a junior this year, and never getting a true home football game experience, I am excited to finally share this monumental event with my friends and classmates," junior Hallie Palmer said.
In addition to student attendance, our opponents have changed. Initially, we were going to face off against the Lakewood High School Gators. Unfortunately, the team has been placed into quarantine due to positive testings of COVID-19. We were successfully able to acquire a new opponent in the Andrew Jackson High School Volunteers. Good luck to our football team and go Cavaliers!