February Athlete of the Month – Brenten Middleton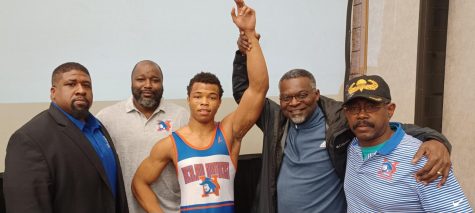 Name: Brenten Middleton
Grade: Senior
Weight Class: 170 lbs
Coach Brandon Harrison's breakdown: "From Brent's first year with me up until now, he's shown some tremendous growth. Not just physically, but also emotionally. I've also seen a big improvement with his mindset for the sport. He's willing to put in the effort and hard work in order to become successful not only on the mat, but off the mat as well."
How'd you get into wrestling?
"I used to play football during my freshman year, but football was never really my thing because I wanted something that was more based on your own performance. I felt like football was too reliant on everyone else performing well together, and it felt like some people didn't want to work hard."
How well did your first year of wrestling go?
"I lost a lot. A lot. But I really wanted to work hard, and I really wanted to perfect it. The losses, they hurt, but I had to come back and be better."
Who have been your guiding figures throughout your RNE wrestling experience?
"Definitely Jacob Marmolejo. I remember going to all of the winter break practices with him, the summer practices with him, and we were always training together. Also Darin Brown. He really helped me out a lot. Those two right there, they're the ones always pushing me and getting me better everyday.
What was your worst experience with cutting weight?
"Actually it was at the hotel at the state championship meet. So my buddies that came with me, they were eating steak and burgers, and we had no idea how much I weighed. So, I had to go to sleep on half a bottle of Gatorade. They were posting pictures of those steaks and burgers on their stories, and I was hungry, but I knew I couldn't eat because I had to be on weight for the next day. But as it turns out, I was three pounds underweight, so I could've eaten a full meal. Better safe then sorry."
How are you feeling after your performance at state?
"I feel like I'm ready to continue with wrestling. It may be my senior year, but I believe that I can continue on and continue to get better at wrestling."
Rapid Fire Questions: