Carrie Vine's social media is thryving
Local Business, Carrie Vine's, uses Thryv small business software to manage social media promotions
*Editor's Note: This story was produced during an on-site competition at the annual SIPA Convention, held last weekend at the Marriott in Downtown Columbia.
"Free samples everyone!" Nailah Darby calls to Soda City visitors. Though her charismatic and welcoming energy immediately draws customers to her booth, she finds a new importance for social media promoting. 
Originally from North Charleston, South Carolina, Darby owns Carrie Vine's Homemade Treats, a small business based in Columbia, South Carolina. After the birth of her son, she left her job as the catering director at Chick-Fil-A in search of a new way to put her degree in hospitality management to use.
"I was in my field before I had my son and I'm still in my field now," Darby said.
Darby started Carrie Vine's in 2018 and has been coming to the Soda City Market on Main Street, Columbia for two years now. Other than Soda City, she sells at catered events, like the mayor's inauguration, and sells door-to-door at local businesses. While balancing being a mother, baking, and managing other business operations, she realized social media often fell to the back burner.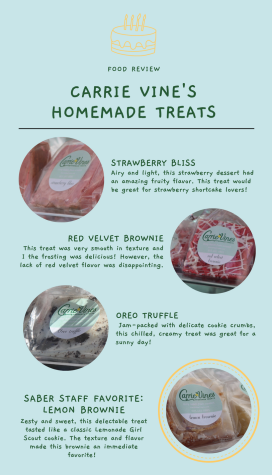 "I was trying to hire a company to help me [post] because I suck at it," Darby said. 
That's when she found Thryv, a small business software company, when talking to other Soda City vendors. She found exactly what she needed, a platform which specializes in social media and automatically posts to Facebook for her. Since, she's noticed customers funneling in from online to in-person. 
"People come to see me when they've seen me on social media," Darby said. "I get some people at the table like 'oh yeah! I saw you posted.' 
She sells a variety of cakes and brownies, including her lemon brownie bars, German chocolate cake, Oreo truffle bars, and more. View the infographic below to see The Saber's favorite dessert. 
What is the primary way you find new businesses?
Sorry, there was an error loading this poll.